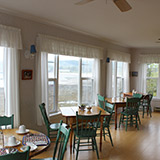 Compass Rose Heritage Inn
Our rooms are friendly and inviting with spectacular ocean views and antique furnishings. Looking for the ideal "get away", honeymoon or romantic weekend? Compass Rose Heritage Inn is your place to relax, slow the pace down, and just enjoy the natural wonders around you. Located in North Head, just minutes from the ferry, our guest rooms look out over the harbour and bay and have lovely ocean views. Five guest rooms and one suite, which includes a fully equipped kitchen. All rooms have a private bathroom and include an extensive continental breakfast buffet served in our ocean front dining room.
Year Round. Front desk service. Restaurant on site. Breakfast included.
Return to top