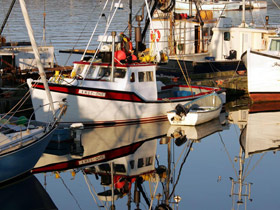 The Fisheries of Grand Manan
• The fisheries of Grand Manan are and have always been the mainstay of our island economy. Visit one of the commercial wharves for a closer look at some of the vessels engaged in various fisheries
• LOBSTER: Year round. November through June – main season, July through October – Grey Zone season). Holding facilities (tank houses and tidal lobster pounds at Woodwards Cove and between Ross Island and the main island collectively represent one of the world's largest lobster holding centres).
• HERRING: Our herring weir fishery is one of the largest in the Bay of Fundy, both for sardines and large herring. Smoked herring was one of the oldest traditions before refrigeration but is now just a memory. Cured, hard smoked herring (bloaters) and herring fillets provided a valuable food source that kept for months without refrigeration. The various smoke stand operations usually began in late July when the first herring were seined from the weirs and continued into the fall and winter months. Once a mainstay of our fishing economy this trade has disappeared with only a few buildings remaining.
• FISH & SCALLOPS: Seining, dragging (or trawling), handlining and gill netting of fish, and scallop dragging are also important sectors of our fishing industry.
• OTHER: Digging clams, picking periwinkles, and dragging for sea urchins and shrimp supplement fishing incomes.
More Details: